When we decorate, usually we think of our indoor spaces…but this year make your outdoor living spaces just as stylish and comfortable as your indoor ones!
It's time to start thinking of your outdoor spaces as an extension of your indoor rooms…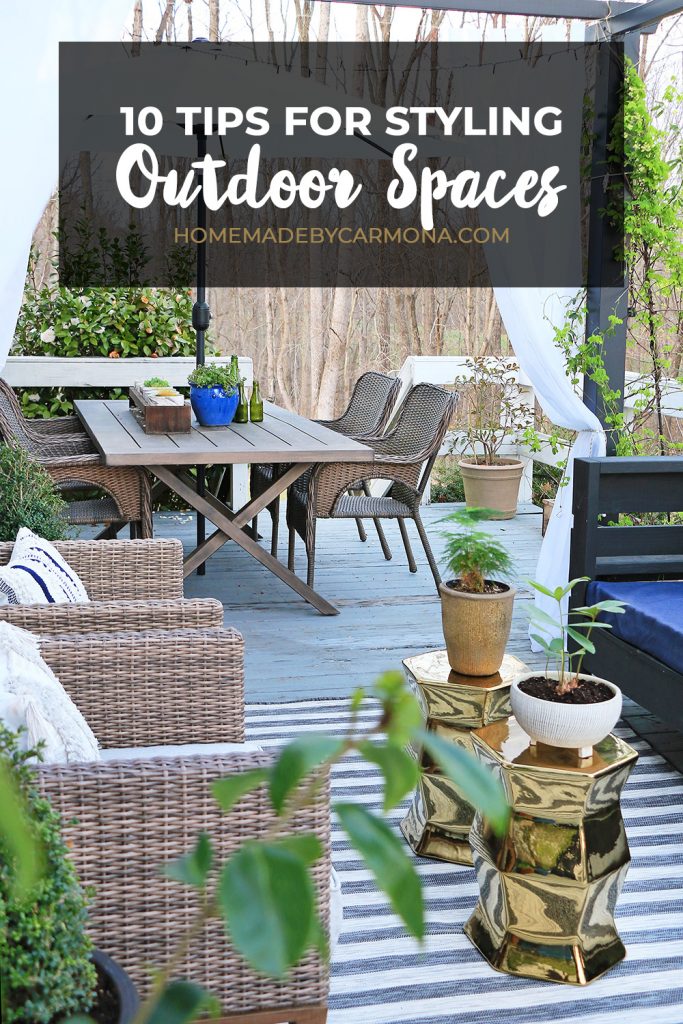 *This post is sponsored by our partners at Joss & Main
Create stellar outdoor spaces with these 10 helpful tips:
Choose A 'Statement' Piece To Start
Find one piece of outdoor furniture or accessory that will be your inspiration and statement piece. The piece that helps you choose all the other pieces…
Don't be afraid to go with a quirky fun piece that pops! Or a particularly stylish piece that brings a high end feel to the space. In my space, the showstoppers are my bright gold garden stools that add a touch of glamour!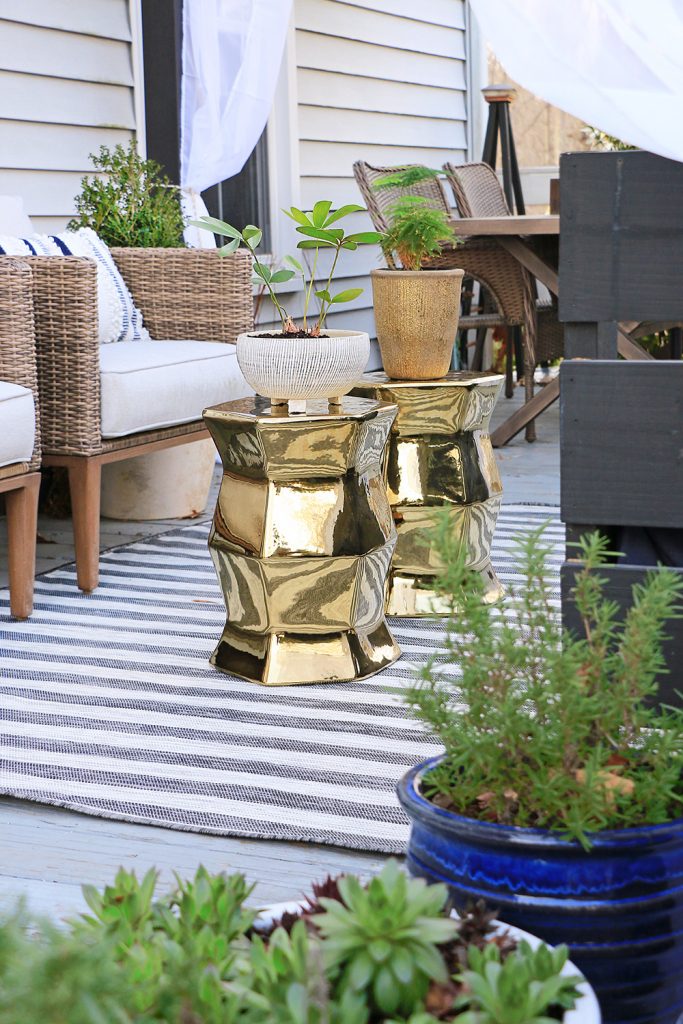 Bring The Indoors Out
We're always talking about bringing the outdoors in when decorating; now I'm telling you to also consider bring the indoors out!
Living spaces are living spaces, whether they exist inside your house or in your yard. So consider extending those indoor rooms you spend the most time in to create an outdoor room. Do you love to entertain? Create an outdoor living room, dining room, outdoor kitchen, workspace, etc.
Do this by utilizing decorating items you typically enjoy inside your house. Such as curtains, sofa's and armchairs, coffee tables, side tables, dining table, consoles, etc. Pretty much anything you would buy for the inside of your house has an outdoor version.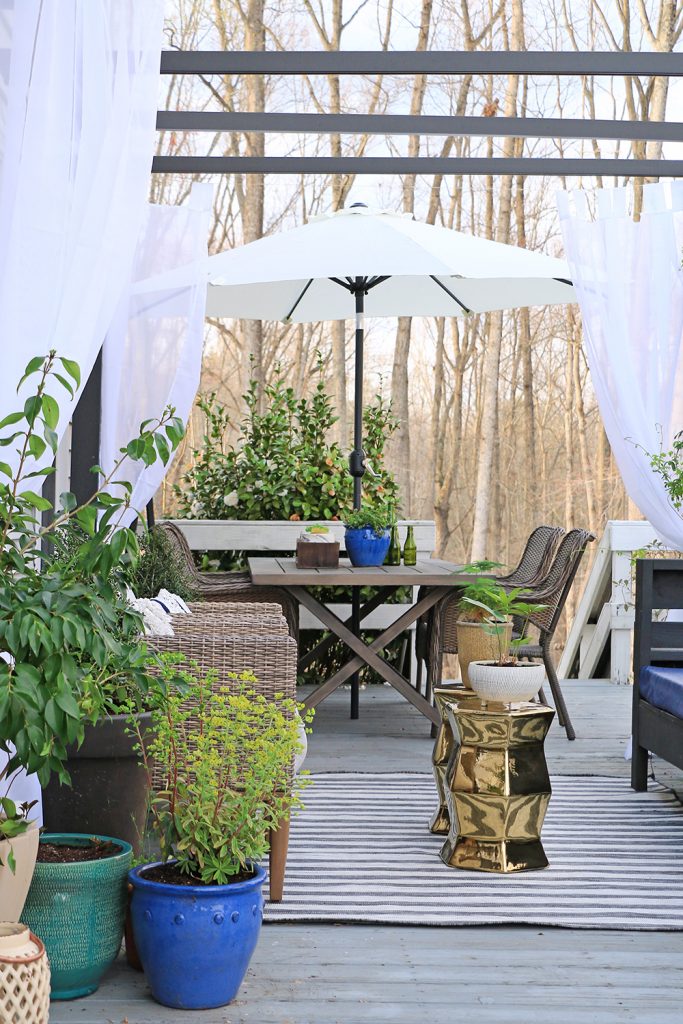 Add An Area Rug To Define The Space & Make It Cozy
If you have more than one zone in your outdoor living space, add an area rug to help further define the spaces.
It is also nice just to have something soft underfoot. It helps add that cozy element you are used to on the inside of your home.
Add Lush Greenery For All Seasons
Of course what would a porch or deck be without flowers and lush greenery? The trick is to ensure your outdoor living space looks great year-round.
Pot a variety of annuals, perennials, and evergreens to ensure your space is attractive in any season.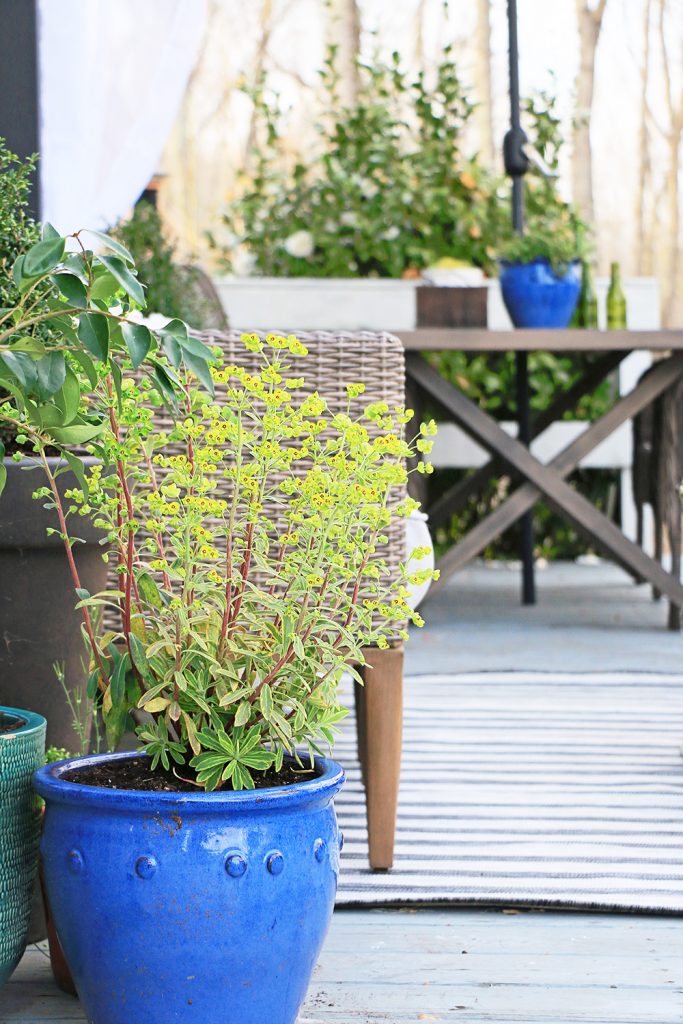 Add 'Bling' With Stylish Planters
You'll always have your "practical" planters. The ones you bought because it was the right material, or size for the plant you had in mind, or it does well in the winter months.
But don't neglect style when considering your practical needs. Add a few pots that bring color, texture, or little bling to the outdoor space. If the material isn't meant for extreme weather, you can bring them indoors during the winter season.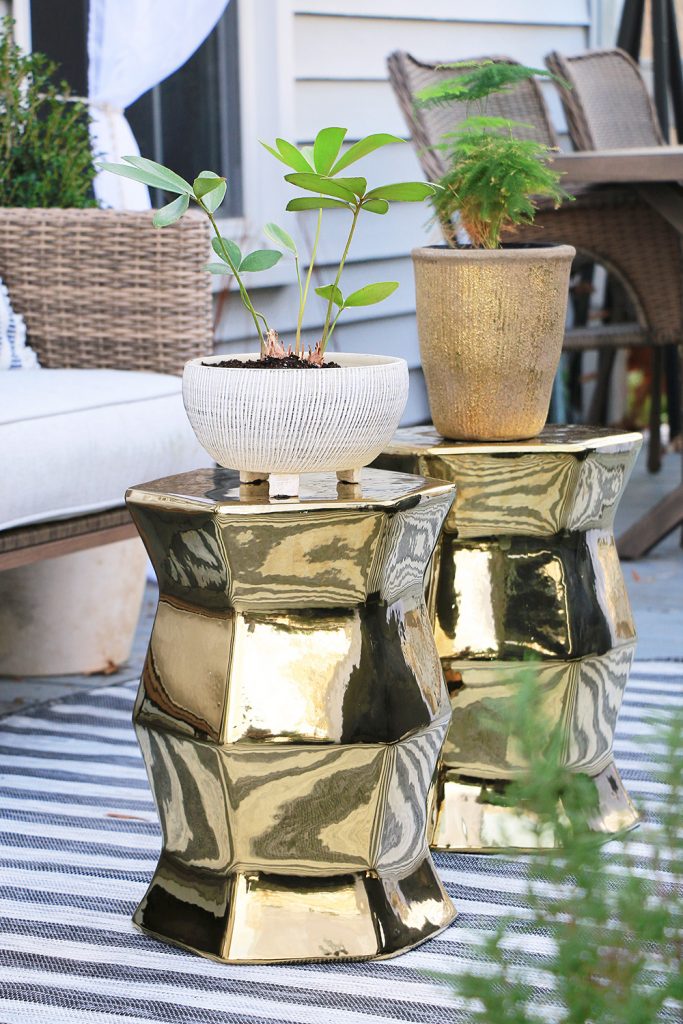 Go Vertical With Decor
Inside your house you would add wall art or other wall decor to fill in empty wall spaces. Do the same with your outdoor spaces by going vertical with planters, like this 9-pot wall planter.
If vertical planters aren't your thing, consider adding other types of wall decor like sculptural art, bird cages, and other creative items as outdoor art.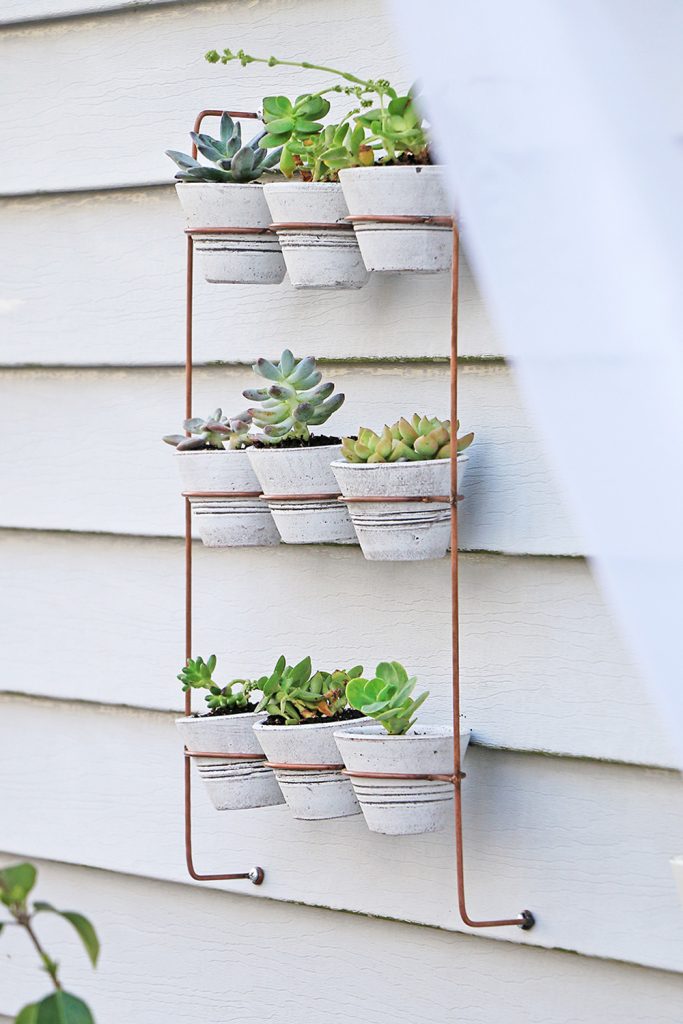 Add a DIY Element
There is no better conversation piece than the item you made with your own two hands!
Even if it is imperfect, it adds charm and personality to a space. Not to mention how proud you can be that you helped craft your space!